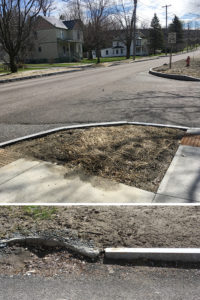 Project Challenge:
St. Albans, Vermont is a small city in northwestern, Vermont. Once a busy rail hub, agricultural and industrial center, the town had seen hard times in recent decades. To turn things around, citizens and city leaders embarked on an ambitious downtown renaissance project in 2012. Redevelopment and beautification included a multi-year project to renew city streets, sidewalks and curbing. The Town Plan specified the use of granite curbing in the historic downtown core. But other parts of the city were approved for concrete curb.
In 2016, city engineers and project managers oversaw Phase Four of the project, including a mile-long gateway corridor, Fairfield Street (aka Route 36), which would undergo a total infrastructure rebuild: water and sewer lines, utilities, streets, curbs, and sidewalks. This was a complex, multi-million dollar project that required many weeks of street closures. All of which had to be coordinated with major work at the regional hospital, also located on Fairfield Street.
City planners had initially specified concrete curbing for Fairfield Street. But before construction started, they talked about extending the granite curbing that made the city center so distinctive. These officials were interested in granite for its aesthetics, and resistance to wear and tear, which led to them asking their general contractor for pricing to include granite curbing for the entire street.
Solution:
The bid for granite curbing was priced competitively compared to the cast-in-place curbing originally spec'd. Granite curbing would add only a small percentage to the total project cost. Fairfield Street was a good location to set granite since the road was going to be completely torn up. Thanks to a skilled installation crew, the entire setting of the new granite curbing was completed in one day, which basically cut the project curb setting time in half! Since every man-hour was critical on this project, this reduced curb setting time was an added cost-saving benefit of choosing granite.
Result:
Fairfield Street has been restored as a stately residential route in and out of St. Albans. Its new granite curbs are also a green solution. They will last indefinitely, saving the city many thousands of dollars over time in replacement, maintenance and disposal costs compared to concrete. Concrete curbing, especially cast-in-place (also called slip form) often needs repair after each winter and is estimated to require full replacement 12-15 years after installation. The newly completed Fairfield Street road in historic St. Albans, Vermont. Project managers approved granite curbing for this one-mile stretch of roadway when it was found to be competitively priced vs. cast in place concrete.